Renowned author James Baldwin said: "Not everything that is faced can be changed, but nothing can be changed until it is faced."
The close of the season has brought us reflections on the original motivation of starting Queen City Volleyball Academy: to create an organization that prioritizes community, inclusion, empowerment, equity and authenticity. To foster spaces where young women would be seen, heard, valued and validated. To provide a volleyball training experience that could open pathways that may not have happened otherwise.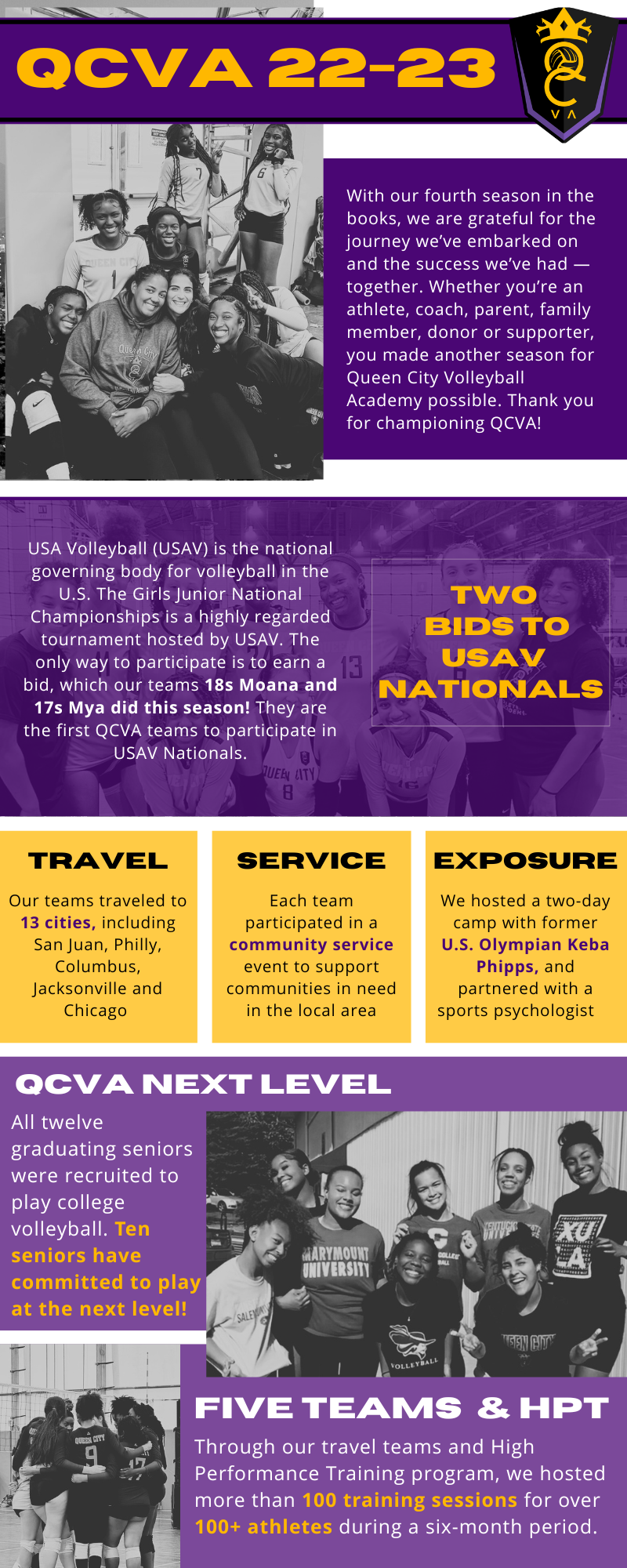 The 2023 season served as the largest scale of our operations during our four years of existence. Through our five travel teams and High Performance Training program, we supported 100 athletes across 100+ training sessions during a six-month period. Dozens of athletes with no-to-limited volleyball experience reached new heights. We provided more than $20,000 in athlete scholarships and travel funds to participate in our programs. On multiple occasions, our teams reached the Gold and Silver brackets in tournament competition. Additionally, all 12 of our graduating seniors received an offer to play in college, and ten of them made commitments to play at the next level! We hosted former U.S. Olympian Keba Phipps who led a two-day training clinic for our club team athletes and organized a unique indoor and outdoor volleyball summer camp to feature professional volleyball player Falyn Fonoimoana.
The reality is that most of the impact in our work is not easily measured in numbers. It is the progressive growth in skill during the season. It is those light-bulb moments when things click, on and off the court. It is a team breaking through in the tough moments to win. It is the 1:1 and small group conversations at practice and in convention center corners that unlock new perspective, belief and confidence. It is the friendships and memories created and experiences traveling to new places, particularly after many of those were taken away during the pandemic.
We want to congratulate all of our athletes, each of whom faced highs and lows with patience and perseverance. Our graduating seniors made up our first class of athletes who had the chance to spend their full high school career playing with QCVA. This group navigated difficult times in their playing days as a function of the pandemic. We are extremely proud of who they are as people, how they have represented QCVA and what they have accomplished, on and off the court. They have joined a growing group of alumni who remain an active part of our community. 
We are a club that prioritizes people and progress, not profit and perfection. QCVA has operated as a scrappy startup to date. We've been experimenting with approaches, working through growing pains, integrating lessons learned and attempting to make adjustments along the way. In building the plane as we were flying it, the ride has been bumpy at times – like with any flight. As with all organizations, improvements can and will be made in certain areas of our work. We plan to do more to sharpen our processes, invest in our coaches' development, enhance team performance, continue to expand our accountability practices and take more proactive action in parent engagement. Needless to say, the foundations are strong, and we are looking forward to continuing to build in a strategic and intentional way.
During the next year, the QCVA team will prioritize spaciousness to engage in reflection and planning. As we begin the transition out of startup mode, we will further build our infrastructure and develop relationships to guide a long-term strategy to advance our mission to expand access to the game of volleyball in the Charlotte area. As we do that, we're planning to run no more than two travel teams — one 18s and one 17s — in the 2024 season. You can register for tryouts here. We're excited to deeply support these teams' success, as well as each athlete's preparation for college recruitment.
Creating a strong culture takes time, and it requires everyone to buy into our values and expectations. QCVA is a special community with a shared purpose, a commitment to togetherness, and a drive for excellence. It has undoubtedly taken a village to get here. For that reason, we are deeply grateful for the journey we've embarked on and the success we've had — together. Whether you're an athlete, coach, parent, family member, donor or supporter, you made another season for QCVA possible. 
Thank you for showing up consistently.
Thank you for pouring countless energy into our athletes.
Thank you for providing helpful feedback.


Thank you for championing and believing in QCVA. 
True to the QCVA Way, community and connection will be foundational to the writing of our next chapter. We will be engaging in conversation and expanding our Board of Directors. If you'd like to recommend someone for our consideration for this role, please write to us at [email protected]. Thank you again for your support. We invite you to check out the short video below for some highlights from the 2023 season! 
With gratitude,
The QCVA Team